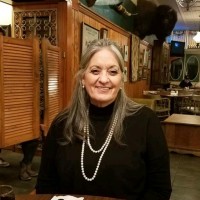 Nona Collins, Clinical Supervisor- Central Region, Director of Recovery Services, LADAC- ABQ,
LADAC
Addiction and Substance Abuse Counselor
Nona Collins joined Krossroads Behavioral Health as an Addiction Specialist. Nona is from New Mexico. She has extensive experience in Families of Addiction as well as Addiction Education. Additionally. Nona has worked with Addiction models (3 years working and with a MAT program in a Community Medical Clinic Behavioral Health Dept) in her career. Nona uses evidenced based modalites such as CRAFT, MI, CBT, Pharmacology, and Group Dynamics in her work. Nona came to work with the public addiction population after working in a Level 3 Prison Behavioral Health Department conducting and teaching recovery groups. Nona is Certified in the  MATRIX model for IOP and conducts IOP groups for Krossroads.
Nona's motto is: The First Step in Going Anywhere is to Decide you Don't like Where you Are. WE HAVE TO HAVE THE COURAGE TO CHANGE.