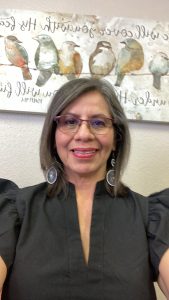 Sharon Gonzales, CSW – Clayton,
Sharon Gonzales started her working career as a Certified Nurse Aide. Then she moved up to Activity Director/Social Services Director at the Clayton Nursing Home. She began working as the facilities Admission director along with Public Relations Director. She worked at Clayton Nursing Home for approximately 18 years. 
Sharon worked for home health for 2 years. She worked 18 years with Behavioral Health worked with adults and Children. She worked as a Psychosocial Rehabilitation Director, and a Recovery Coach. Sharon is currently serving Clayton as a Municipal Judge, she has been sitting on the bench for over 18 years. She is currently with Krossroads Integrative Health and Recovery Solutions. Her title is the Community Support Worker, Since September 2022.